Robert Kennedy, Don Drysdale, and a Tumultuous Week in '68
Growing up, I noticed mostly floral arrangements or generic paintings hanging on the walls at my friends' houses. On the contrary, my family's living quarters housed a framed newspaper announcing the death of President Kennedy. Looking back, I recognize the decor might have been a bit abnormal, but I honestly never thought anything of it. My mother was eleven years old when the tragedy occurred, and she still recalls the events of November 22, 1963 with an incredible clarity. The day obviously had a significant impact on her even at such a young age.
Only five short years later, my parents' generation was once again reminded of '63, as they were forced to endure the gruesome murders of Martin Luther King Jr. and Robert F. Kennedy, only 63 days apart. What this generation did not realize, however, was that America's favorite pastime could possibly provide some source of present healing for a city and a nation that were very much in shock.
As I write this in 2013, I hope to bring some light to this tumultuous week from June of 1968. You see, 45 years ago this week, Los Angeles was not only subjected to the tragic murder of yet another Kennedy brother, but they were also treated by the majesty of Dodgers pitcher Don Drysdale, most assuredly as a sign of hope, a sign of better things to come.
Let me begin by briefly trying to map out of the political landscape of the Democratic Party at the time. The California Democratic Primary of 1968 was quickly evolving into one of the most important political races throughout the year. Originally, the general consensus was that LBJ, the sitting President at the time, would carry the Democratic nomination into the convention in Chicago. Pressures (and perhaps memories of JFK) were mounting, nonetheless, for fellow Democrat and New York Senator Robert Kennedy to challenge Johnson. Similar to today's practices, it was considered to be of bad taste for a candidate from the same party to challenge a sitting President. Additionally, LBJ, against his best wishes, had endorsed Robert Kennedy for his Senate bid in 1964. So Kennedy patiently waited, perhaps as a sign of respect.
The game changed, however, when Eugene McCarthy (armed with the majority of the anti-war movement) mounted a ridiculously strong showing in the first primary at New Hampshire. Forever being labeled as an opportunist (usually in a negative fashion), RFK decided to throw his hat into the ring as well. Shockingly, President Johnson would soon withdraw from the race, making Kennedy and McCarthy (and eventually Humphrey) the key players on the Democratic side.
At the same time, the citizens of Los Angeles could turn to the sports section of the Los Angeles Times to read about the recent happenings at Dodger Stadium. A substantial buzz was developing regarding pitcher Don Drysdale's consecutive shutout streak that began on May 14th in a 1-0 victory over the Chicago Cubs. Several weeks later on May 31st, he would proceed to tie a record that had been held for 64 years as he notched his 5th straight shutout in a 3-0 win over the Giants. June 4th was beginning to present itself as a day that might have historical implications of some sort, as Drysdale would attempt to break the record and California voters would also have a chance to help select a new Presidential candidate for the Democratic Party. As the Dodgers star pitcher proceeded to break the record with a 5-0 shutout over the Pirates, all eyes turned to Kennedy and McCarthy, and later to the Ambassador Hotel.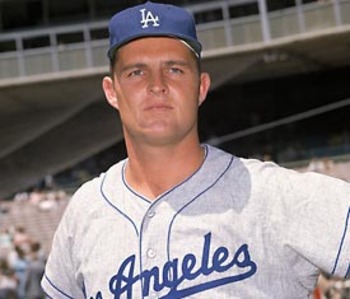 It was unlikely that a victory in the California primary would clinch a nomination for any candidate, but it would provide some much needed momentum as the race progressed. After a hard-fought campaign on both sides, California voters showed up in full force and RFK narrowly defeated his opponent Eugene McCarthy, acquiring 46% of the votes. The charismatic and newly victorious Kennedy would go on to announce his victory at the Ambassador Hotel in Los Angeles. After being serenaded by chants of "We want Bobby, we want Kennedy," RFK graciously thanked his supporters and quickly transitioned to his opening remarks.
"I want to first express my high regard to Don Drysdale…who pitched his sixth straight shutout tonight."
The remark, quite obviously, was met with cheers and applause. Perhaps the statement was purely political. But then again, he had already been crowned victorious. He then proceeded to transition to the remainder of his victory speech by noting,
"And I hope that we have as good of fortune in our campaign."
This lighthearted transition would unfortunately never be realized. Roughly twenty minutes later, Kennedy lay in a pool of his own blood in a kitchen of that same Ambassador Hotel. The man known simply as "Bobby" had been shot three times by a disgruntled 24-year old named Sirhan Sirhan.
And just like that, the nation, and more importantly the City of Angels had been dealt two consecutive victories followed by unbelievable tragedy all in the span of one day. Obviously they weren't prepared to deal with this scenario, and they were left asking, "How will we cope with the heartbreak?"
Once again, the city would turn to their beloved Dodgers and their star pitcher, Don Drysdale. He had just broken the Major League Baseball record for consecutive shutouts (6), as Kennedy had mentioned, and he was still gunning for the consecutive scoreless innings streak. Ultimately, RFK died on June 6th, and his friend Don Drysdale was slated to take the mound two days later, with the chance of once again captivating the hearts of Dodgers fans in the process. This time, there was more at stake than simply inking a new Major League Baseball record. According to MLB.com columnist Ben Platt:
Drysdale set the record for consecutive scoreless innings with 58 2/3 (the record was later broken by former Dodgers right-hander Orel Hershiser, who hurled 59 straight scoreless innings, in 1988). As the pitcher stood on the mound to receive the accolades from the fans at Dodger Stadium, Drysdale wore a black armband in memory of his slain friend.
While the game of baseball most certainly didn't provide permanent healing for a whole city, it did serve to provide a meaningful distraction. And that is how, in the summer of 1968, for the citizens of Los Angeles and baseball fans nationwide, baseball proved to be more than "just a game."
(Thanks for reading. Come back tomorrow for some extra material, as I explore the rumor of Drysdale carrying a tape of Kennedy's speech with him for the rest of his life.)
EDIT: The link for the story of Drysdale and the Kennedy tape can now be found here.